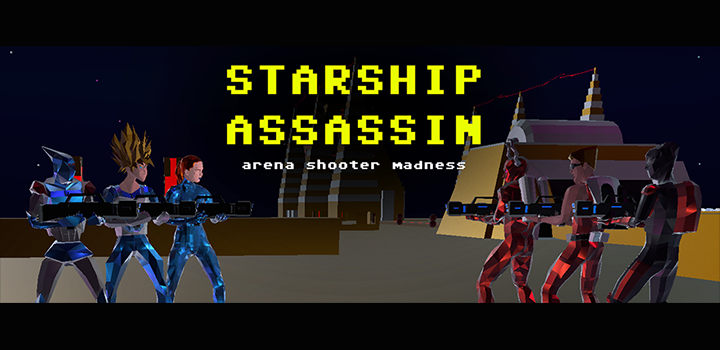 Starship Assassin
A downloadable game for Windows
Competitive Multiplayer Arena Shooter. Jetpack through space. Shoot people. Blow up artificially intelligent space ships. Because why not?
You have a new job as a space assassin. It's up to you to lead your team to ultimate victory against the menace of The Other Team. Use power-ups found along the way to give yourself an edge.
To Win a Round: Blow up the enemy A.I. Core. Prevent them from blowing up yours. By any means necessary.
Features:

6 playable characters
2 large multiplayer arenas
Use your jetpack to strike from above
Lasers rifles, proximity mines, and remote mines
Sniper zoom comes standard
Up to 30 players at once
Dedicated servers (US and Euro regions)
items, player levels, permadeath, global XXX-score
Beta limitations:

It's not done yet
Bugs? If you find any, let me know and I'll fix them.
Controls:
Keyboard:

WASD + mouse -> movement
RMB -> zoom aim
LMB -> shoot
e -> use
i -> inventory
hold space -> use jetpack
* Game pads are supported
Future:
More levels, more characters, more items, more better!
Let me know what you think in the comments. This is a one-man production so go easy!
Come hang out in our discord chat for early updates and cool stuff: https://discord.gg/UUrwDtm
If you like the game, follow us on twitter: @StarshpAssassin
Install instructions
Just run the setup file and install to a directory of your choice. You should be good to go!
If you *DO* encounter any issues with installation, please let me know directly at dave@starshipassassin.com
Have fun!